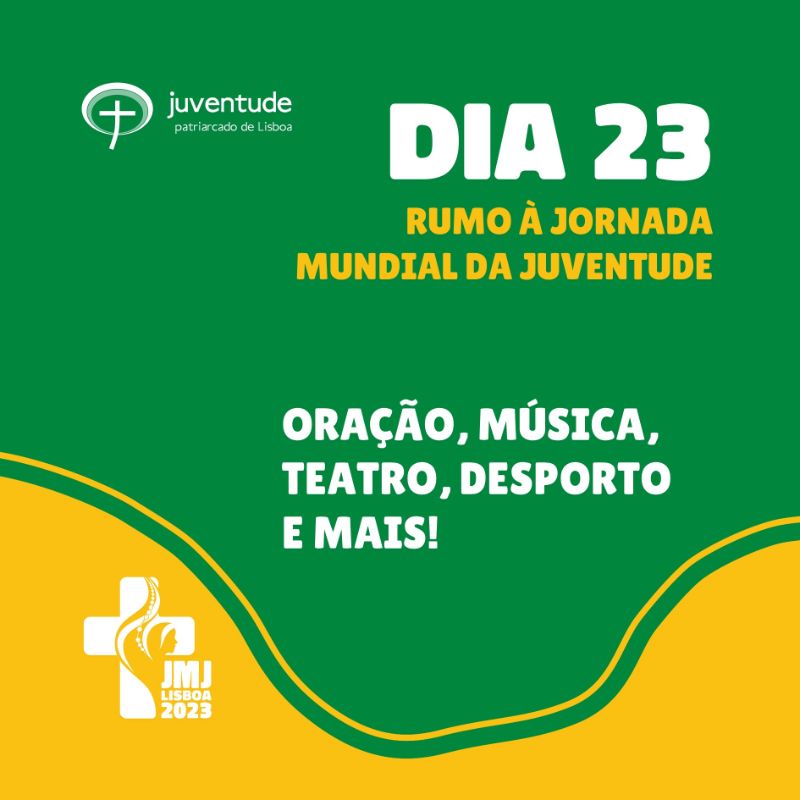 Hello!
Have you heard the news?
The 23rd of each month is WYD Lisbon 2023 Day!
If you are part of the Lisbon diocese (or if you want to accompany the young people of this diocese), we have an invitation to leave you.
It is on this 23rd of November that the first DAY 23 of the diocese will take place.
It is intended that these days the young people of the diocese will come together in a great moment of celebration of the Days, until the World Youth Days themselves.
"DAY 23 will always take place in the Parque das Nações area. This first will take place in the Church of Nossa Senhora dos Navegantes - Parish of Parque das Nações and will start at 9 pm, ending at 10 pm".
Physical presence implies registration, and only until this Friday (20th). If you want to go you will have to tell us until Thursday.
But we can all follow on-line, through the Facebook page of the Youth Service of the Patriarchate of Lisbon, or through the YouTube of the Patriarchate (https://www.youtube.com/user/patriarcadolx).
We would like to count on you for this activity, if not in person - it will be difficult, we know - at least via online. And for that we challenge you to leave a comment at the time of the transmission, saying: I am Hospitality and I am at WYD 2023 from ... (place where you are). "
Do you accept our challenge?
Until then! Until every 23 days!
You know...
We want this space to be like a "press room", where we can communicate everything we know about the World Youth Days in Lisbon.
Challenges, dates, events, excerpts from news, initiatives organized by other groups and movements of the Church, national and international.
We don't promise you that everything is here. But we would like to. For that we count on your help, too. Whatever you learn, share it with us. You can send all the information to our email: sede@juventhospitaleira.org or pjv@isjd.pt.
Be our special reporter for these days!