GET UP! AND WALK TO WYD LISBON 2023.
Preparation catechesis for WYD Lisbon 2023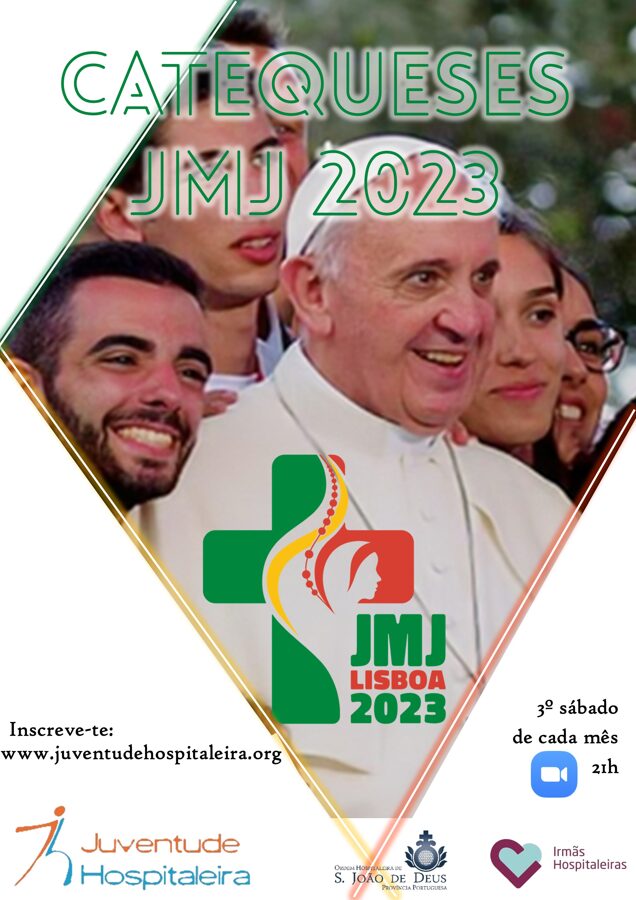 The hospitable youth, as a youth movement, of the Hospitable Sisters of the Sacred Heart of Jesus and of the Brothers of S. João de Deus, will begin their pilgrimage journey towards WYD, an event that as we know will take place in Lisbon in the year 2023.
In harmony with the universal Church, young hospitable people will meet monthly, on the third Saturday of each month, at 9 pm (Lisbon time) to take the catechetical course proposed by the Church of Portugal as a group. We intend that this itinerary be made with a sense of universal communion by the degree of breadth that characterizes it, although we intend that part of these meetings, in more marked moments, will have a more specific component, which is linked to the practical dimension of hospitality, given the commitment that holds these young people to the experience and proximity of the relationship they establish with the Charism of Hospitality.
We hope that this initiative will be distinguished by its integrating and universal character, does not exclude anyone, and that the enthusiastic testimony above all of the Young Hospitallers, will be an incentive for so many other young people who live distracted and outside this voice of God who continues to call them also to them that they may know and love Him. May all young people scattered in various places, regions of the country and even the world, see the confirmation of themselves, the certainty that they also feel called to stand up and give a face to Hospitality, accepting to be close to themselves, of Jesus and the brothers. May the motto assumed this year by the JH Movement help to awaken the sensitivity of young people in general to the calls that the Lord Jesus is revealing to them, and at the same time to grow in inner freedom to respond positively and affirmatively to what God expects of each one , as a personal life project in favor of the brothers.
This is undoubtedly a daring journey that implies leaving us, opening ourselves to new horizons where the capacity for transcendence and personal overcoming is played out. However, we count on the support in each other's faith, but above all from Jesus the Good Samaritan who will accompany us on this road of life. For it moves us the certainty that He never gives up on us, since it is in his school of life that we will learn to make the experience of being hospitable, welcoming and feeling welcomed as we are and He is in us.
To you, Young, the challenge remains: "Get up! And walk to WYD Lisbon 2023 ... with us, always in Hospitality!
SUBSCRIBE TO THIS ADVENTURE!

Youth Hospitaller proposes to young hospitallers, and to all young people in general, an itinerary of preparation for the World Youth Days in Lisbon 2023, which begins with this activity of Catechesis of Preparation for WYD2023.
As already said, this itinerary will be done in parallel with that proposed by the Organization of WYD Lisbon 2023, together with all the young people who, at the same time, are associated with this Rise Up! In our journey, Hospitality will also gain its space, as we want these days to be very Hospitable days! For that we count on all of you!
If you are interested, fill in and send the form below, and join us all on the 3rd Saturday of each month, via the Zoom platform, at 9pm (Lisbon time). The data will be sent to you with confirmation of your registration. We try to speack and understand in English!
So ... what are you waiting for! Sign up!